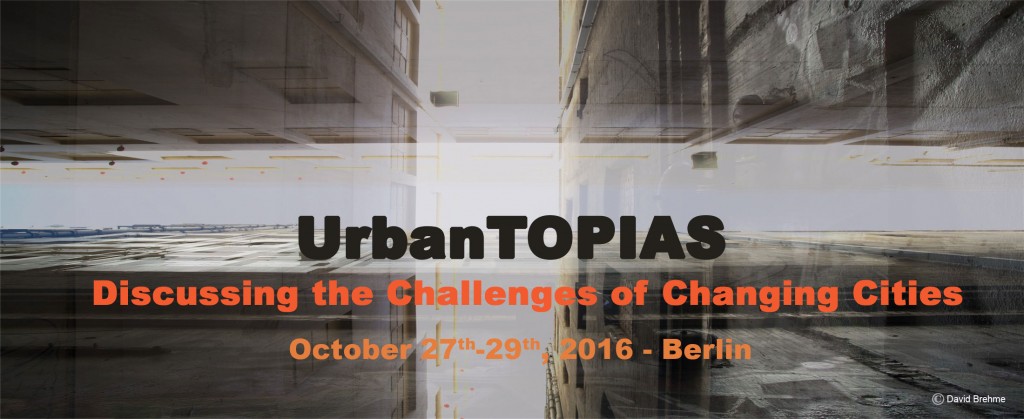 UrbanTopias. Discussing the Challenges of Changing Cities
October 27-29, 2016
The Center for Metropolitan Studies, where I am a doctoral fellow, cordially invites you to the
5th Annual Conference of the
DFG International Graduate Research Program Berlin – New York – Toronto "The World in the City: Metropolitanism and Globalization from the 19th Century to the Present".
This year's conference theme is "UrbanTopias. Discussing the Challenges of Changing Cities" and will take place from October 27-29 2016 at the Center for Metropolitan Studies in Berlin as well as the Humboldt Universität Berlin.
We invite urban scholars, practitioners and activists to discuss the challenges of changing cities. Throughout global history the dialectic of fear and hope has always been strongest during moments of crisis and transformation whether through political and artistic movements, technological and infrastructural innovations, or societal revolutions.
The conference explores the multiple forces of threats and anxieties, as they shape urban reality. Secondly, it examines practices of resistance and adaptations to urban transformations. Thirdly, the conference investigates different conceptualizations of the urban future, and its particular relationships of time and space. Finally, a roundtable discussion concludes the conference and invites a number of panelists, together with the audience, to debate the future of urban studies.
For more details on the program visit the conference's homepage: http://urbantopias.metropolitanstudies.de
The conference is free of charge.