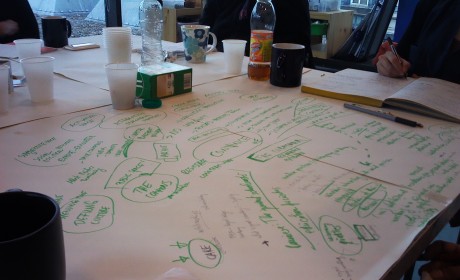 Whether used as a tool for developing projects or for contributing to the discourse of professional development of curators and artists, research forms a large part of my curatorial practice. Information on both previous and current specific research projects can be found below.
Current Research:
The Berlin Biennale for Contemporary Art and the Shaping of Berlin as an International Cultural Metropolis
I have recently taken up a position as one of the DFG Doctoral Fellows at the Center for Metropolitan Studies at the Technical University of Berlin as part of their "World in the City" program. Tying in with the program's focus on temporality, my research will explore the contemporary art biennial as a new form of ephemeral and stable institution  that  has contributed to the shifting identity of the city from a cultural wasteland to  an  international  cultural  metropolis. You can find more information here.
 
Previous Research:

ICI's Istanbul Curatorial Intensive Programme 
From June-September 2013 I took part in ICI's Curatorial Intensive where I completed a research project that examined the case of the 13th Istanbul Biennial and it's relationship with the local. You can watch my presentation of this research here.
VAGA International Research Enquiry: International Working And Curators in Scotland
In 2010 I was Assistant Researcher for this research project commissioned by The Visual Arts and Galleries Association, funded by the Scottish Arts Council / Creative Scotland. 
The research demonstrates what formal and informal networks exist in Europe 
and internationally to support curators in Scotland and the UK involved in the presentation of contemporary visual art, and was the catalyst for the development of the curatorial development programme Framework in Scotland. The research report and a link to the Framework programme can be found here:
http://sca-net.org/downloads/509b698a2937c-VIRE%20report.pdf
http://framework.parallellines.org.uk/ 
GOMA, (Glasgow): Artists from Commonwealth Countries
In 2009 I was a research assistant for the Gallery of Modern Art in Glasgow. I investigated artists from commonwealth countries who had exhibited  as part of various  international biennales from the past 10 years.