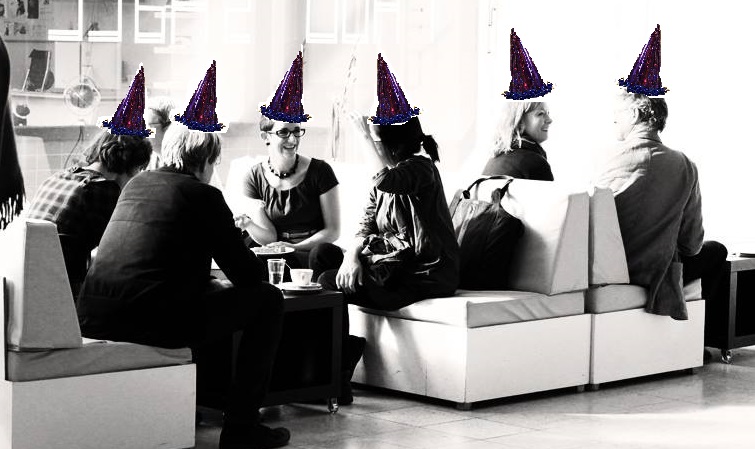 EN//
4-6pm
Friday 28th November
SUPERMARKT
Brunnenstrasse 64 (U8 Bernauer Strasse or U8 Voltastr)

Are you are Berlin-based curator, arts manager, or cultural producer? Are you involved with creative projects in Berlin on a freelance or project basis? Do you want to be?

Contemporary Art Exchange and Supermarkt invite you to a relaxed drop in social gathering where you can meet other independent curators and producers across a variety of creative disciplines, discuss methods and ways of working, and get feedback on projects or ideas within a creative and supportive environment. Discussion topics are limited only by whatever you'd like to contribute.

This month, instead of featuring guest speakers, our session offers the opportunity to get know one another other a bit better and celebrate our 1-year anniversary. So please join us for an end-of-year chilled get-together over coffee in the SUPERMARKT Cafe! We will be back with our regular programme in early 2015.
Language: Presentations and discussions can be held in German or English depending on participants present (translations can be provided on request).
Registration: To attend this event, please send a short RSVP to kate@contemporaryartexchange.org
Price: By donation. Drinks are also available for purchase from the café.
DE//
16-18 Uhr
Freitag 28. November
SUPERMARKT
Brunnenstrasse 64 (U8 Bernauer Strasse or U8 Voltastr)
Bist du eine Berliner KuratorIn, KunstmanagerIn oder kulturelle ProduzentIn? Bist du an kreativen Projekten in Berlin auf freiberuflicher oder Projektbasis beteiligt? Willst du es sein?
Contemporary Art Exchange und SUPERMARKT laden dich zu einem lockeren Treffen für kreative Gleichgesinnte im SUPERMARKT Café ein. Triff dich mit freien KuratorInnen und ProduzentInnen aus verschiedenen kreativen Gebieten auf einen Kaffee, lernt euch kennen, diskutiert Arbeitsmethoden und gebt einander Feedback zu Projekten und Ideen in einer Umgebung, die kein Haifischbecken ist. Offene Gesprächsrunde – wir können über alles reden, was euch auf kreativer Ebene bewegt.
Diesen Monat, statt unserem normalen Programm mit Gastsprecher_innen, wird euch unser Treffen die Möglichkeit geben, einander besser kennen zu lernen und unser 1-jähriges Jubiläum zu feiern! Ihr seid herzlich eingeladen zu einem entspannten Jahresabschluss mit Kaffee im SUPERMARKT Cafe! Die Nächste CCC werde im früh 2015 stattfinden.
Sprache: Das Treffen kann je nach Wünschen der TeilnehmerInnen entweder auf Englisch oder Deutsch stattfinden (Übersetzung jederzeit möglich).
Anmeldung: Um euch für die Veranstaltung anzumelden, schreibt eine kurze Mail an kate@contemporaryartexchange.org
Kosten: Spende erbeten. Kaffee, Tee und Kuchen sind im Café des SUPERMARKTs erhältlich.
Location: SUPERMARKT, Cafébereich, Brunnenstrasse 64, 13355 Berlin. SUPERMARKT ist barrierefrei.
Image: Michelle O'Brien, modified badly by Kate Brehme